Need a new system or AC repair in Leander TX? Contact us at (512) 677-4424 for the quality and affordable air conditioning repair and HVAC service in Leander TX.
We are a full-service HVAC company that offers all AC repair and service solutions to Comercial and Residentials customers.
Air Conditioning Repair & HVAC Service in Leander TX
Grande Air Solutions provides AC repair in Leander TX, our HVAC service team specialized in AC, furnace, heat pump, and other air conditioning repair solutions. We are here to help the Leander community with all HVAC problems at affordable rates. Besides the great rates, Grande Air Solutions also offers to finance to those who need a little support. As a full-service AC repair and HVAC service company in Leander, TX our goal is to bring high-quality heating and cooling solutions to residential and commercial customers. 
Emergency AC Repair Leander TX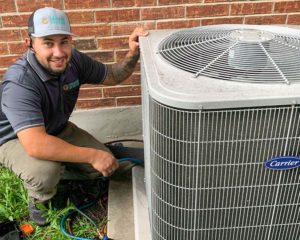 We know that AC repairs can occur at any time of the day. With Grande Air Solutions you have specialists on-call to address any of your HVAC emergencies. Our HVAC service team is experienced and ready to attack any AC issues. 
Our HVAC Service Will Install Your New AC
Most air conditioners have about for 10–15 lifespan. If you are seeing signs of inefficiency, moisture build-up, or weird smell it might be the time to contact your HVAC service guys. A new AC will not only lower your electricity bill but also prevent you from calling your ac repair company frequently.
Our air conditioning repair Leander TX specialists can help you select the most efficient and affordable system from Amana. Grande Air Solutions will install your new system without any headache or hassle.
Contact Grande Air Solutions HVAC Service Leander TX
Here at Grande Air Solutions, we always thrive to do the best for our customers. As you can see from our reviews, we have thousands of happy customers all over Austin and Williamson County. Our goal is to provide the highest standards in quality and safety. We take pride in what we do and Grande Air solutions will always provide 100% satisfaction on all HVAC work we do!
Contact Grande Air Solutions today at (512) 677-4424 to schedule immediate air conditioning repair or HVAC services in Leander, TX