AC Repair Cedar Park, Texas
Top-Rated Air Duct Cleaning & Ac Repair in Cedar Park, TX
Need ac repair or air duct cleaning in Cedar Park? Want help with a broken AC or need a replacement? Call (512) 677-4424 for immediate service in Cedar Park, TX. Receive a free estimate on new system replacements.
Are you looking for a reliable heater or ac repair Cedar Park? We know it can be difficult finding the right person to hire. That's why at Grande Air Solutions we're committed to providing only the best customer service and solutions.
Our Cedar Park AC repair experts love to help customers find creative solutions to their toughest heating and cooling problems. From AC repair to duct sealing and insulation, we can help with any HVAC need.
Emergency AC Repair Service Cedar Park TX
Struggling with a broken AC or furnace just when temperatures turn harsh? Get help immediately when you call our emergency HVAC team. Grande Air Solutions provides same-day heating and cooling repairs for residents throughout Cedar Park. We're here for you, even on weekends and holidays.
Most importantly, our goal is to help you return to your normal routine as quickly as possible, so you can stop worrying about your AC or heating unit and start focusing on your priorities!
Replacement And Heater Repair In Cedar Park
Not sure what's wrong with your air conditioner? Give us a call to have your unit inspected. We will identify the source of the issue and present you with options for AC repair or replacement.
We understand that installing a new AC is a significant investment. This is why we make every effort to repair the problem rather than recommend replacement. We will always provide you with the most cost-effective solution.
Signs It's Time to Replace Your AC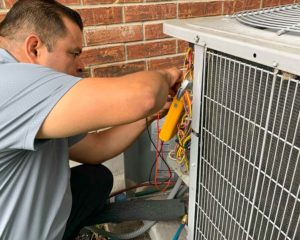 Is your air conditioner over a decade old? Is it starting to develop problems—more often than you'd like? It may be time to look into replacement options. A more efficient unit will put a stop to constant repairs and help you save on electricity costs.
If your AC is on its last legs, contact us for professional replacement. We can help you get your new unit up and running in no time. Our Cedar Park AC installation experts will assess your cooling needs, determine the proper AC size, go over your options, and set up your new AC according to code.
We have authorized Amana dealers and offer a variety of high-efficiency products to meet your particular cooling needs.
Contact Our Cedar Park AC & Heater repair Experts Today!
When you work with the team at Grande Air Solutions, expect friendly service, honest recommendations, and top-notch workmanship. Our AC and heater repair team is always ready to help Cedar Park community.
We make every effort to ensure your comfort and peace of mind. This includes following up with you after our job is done. If you are unsatisfied for any reason, let us know and we will return to your property to fix the problem. Our job isn't done until you are 100% satisfied!
Our other heating and cooling services include:
Call Grande Air Solutions today at (512) 677-4424 to schedule immediate heating, air conditioning, or air quality services in Cedar Park, TX