Commercial HVAC Services In Austin, Hutto, Round Rock, TX, And Surrounding Areas
Commercial AC and Heating Services In Austin
Help your employees and customers enjoy greater indoor comfort with top-notch heating and AC solutions. Call (512) 677-4424 for the best commercial HVAC services in Austin, TX.
Emergency AC Repair For Your Business
Is your building's AC down? A broken AC during the summer isn't just inconvenient —it can also affect staff productivity and turn customers away. Don't let a broken AC get in the way of your daily operation. Contact Grande Air Solutions for immediate repair and relief. We have cooling experts on-call around the clock to handle your toughest AC problems.
After a professional inspection and diagnosis, we will discuss the issue with you and present you with the recommended course of action. We can perform repairs on the spot and get your AC working efficiently again right away.
AC Replacement Done Right
Get your old air conditioner replaced quickly and professionally. Grande Air Solutions provides hassle-free AC replacement for commercial properties throughout Austin.
Most cooling issues are caused by incorrect AC sizing or poor installation. Our team will assess your property to ensure that you receive an appropriately sized AC unit (this will depend on several factors, including the size of your property, how well it's insulated, and the size of your existing ductwork).
We will safely remove your old unit and install a high-quality, high-efficiency product from Amana. Our experts take pride in their work and will make sure your new AC installation meets the highest safety and quality standards.
Commercial Heater And Furnace Services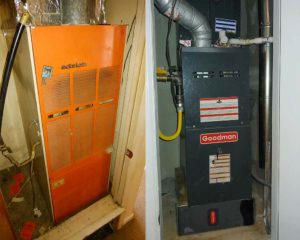 Do you need to repair the furnace in your commercial facility? Perhaps you're looking to install a new heat pump. Our team provides a range of heating services to keep your staff and your customers comfortable. No matter your heating needs, we have the right solution for you.
Need to replace your old heating units? We will assess your needs and help you select a unit that is the right size and features the best efficiency rating for your property.
We specialize in Amana products, and can also help you repair and install all major brands of heat pumps and furnaces.
Grande Air Solutions is committed to helping you achieve total indoor comfort year-round. Every job complies with local building codes and every solution is designed to ensure your safety and peace of mind. Our experts take the time to go over your options for repair or replacement, so you have all the information you need to make the best decision for your business.
Contact Us Today For Commercial HVAC Services In Austin, Hutto, Round Rock, TX, And Surrounding Areas