Ductless Mini-Split Air Conditioning In Austin, Hutto, Round Rock, TX, And Surrounding Areas
Ductless Mini Split AC Installation & Repair In Austin
Thinking of switching to ductless cooling? Need to replace your existing mini-split system? Call (512) 677-4424 for ductless mini-split AC installation and repair in Austin, TX, and surrounding areas.
Many homeowners are choosing to install ductless mini-split air conditioners, even if their property is designed to accommodate forced-air systems.
Ductless Mini-Splits Provide A Number Of Advantages:
Less chance of air loss due to leaking ductwork
More flexible climate control with zoned cooling
Greater energy efficiency
Quieter operation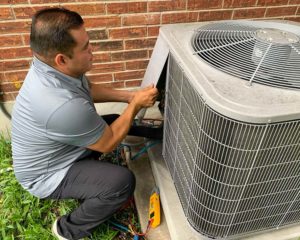 Whether you're looking to install your first ductless mini-split AC, or you'd like to upgrade your existing unit, Grande Air Solutions is here to help with all of your cooling needs. We provide professional ductless mini-split AC services throughout Austin.
Our experts will make sure your unit continues to work efficiently with quality installation, repair and maintenance. If you're in the market for a new unit, we will help you navigate your options, select the product that best meets your needs, and make sure it's installed properly to give you long-term peace of mind.
Factors To Consider Before Installing Ductless Mini Split ACs
Before you make the decision to install a ductless mini-split AC, make sure there are no restrictions set by your residential community. For example, some condominium associations may not allow ductless systems since the condenser unit will stick out from a balcony or window.
If your home is cleared for ductless mini split installation, contact our Austin AC contractors for a consultation and estimate.
Selecting The Right System
The team at Grande Air Solutions will assess your cooling needs to calculate the proper AC size. Oversized or undersized units will work less efficiently (just like their forced-air counterparts).
We will also discuss the number of indoor units (air handlers) you would like to install. Some homeowners have a central HVAC system and just want one ductless mini-split for a specific room.
Other properties may need several indoor units installed if they are replacing their forced-air system with a ductless unit. Our experts will help you determine the right amount and the ideal locations for placement.
Do Ductless Mini Splits Require Maintenance?
Although ductless ACs seem less complicated than forced-air systems, this doesn't mean they are easier to maintain or maintenance-free. Keep in mind that ductless mini splits have an indoor and outdoor unit, plus pipes, coils, and a filter—just like standard air conditioners. These parts will need to be cleaned and maintained on a regular basis.
In a way, maintaining ductless mini split ACs requires greater effort on your part. Unlike forced-air systems (where the filter can be easily replaced every three months), filters in ductless mini-splits need to be removed and washed once a month. Neglecting routine filter cleaning can cause debris to build up in the unit, which will require professional cleaning or repair to fix.
Contact Us Today For Ductless Mini-Split Air Conditioning In Austin, Hutto, Round Rock, TX, And Surrounding Areas