Heat Pump Installation & Repair In Austin
We are a reliable HVAC contractor to install or repair your heat pump!
Call (512) 677-4424 to schedule immediate service. Free estimates provided on new system replacements.
At Grande Heat Pump Austin Texas your satisfaction comes first! Are you using a heat pump? Then you know how efficient they are when it comes to cooling and heating your home. Models produced these days can even lower your electricity use by half come winter time, while also working as a great dehumidifier during the summer.
Grande Air Solutions Heat Pump Austin Texas can help you successfully make the switch to heat pump technology. We provide heat pump installation, repair, and maintenance throughout Austin, TX and surrounding areas.
Whether you're looking to lower your energy costs or achieve more efficient heating/cooling, a heat pump is a smart alternative to standard air conditioners and heaters.
Common Problems We Handle
Your heat pump needs to work efficiently year-round, since it provides both heating and cooling for your home. When unexpected problems occur, contact the team at Grande Air Solutions for professional inspection and diagnosis. We will get your heat pump back to normal again in no time!
Lack Of Heating Or Cooling
This can be caused by several different factors, including clogged filters or coils, a damaged blower, or imbalances in the system.
The outdoor condenser will defrost itself to remove ice buildup during the winter. However, if there is a problem with the condenser, the normal defrosting process will be interrupted. Common problems with condensers include faulty elements, broken fan motors, and low refrigerant levels.
This happens when the blower motor becomes damaged, or if the filter is clogged. Timely filter replacement will help keep your heat pump running reliably and prevent unexpected issues.
Choosing Between Heat Pumps and Air Conditioners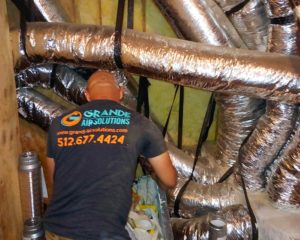 Wondering if making the switch to heat pump technology is worth it? Although heat pumps are more energy-efficient than standard heating and cooling systems, not all households will be able to reap the same amount of benefits—it will depend on your specific indoor comfort needs and preferences.
Before you decide to install a heat pump, consider these factors:
Do you have high heating costs and know that switching to a heat pump will help you save in the long run?
Is switching from gas to electric heating more reasonable for your home?
Is an all-in-one heating and cooling unit something that makes sense for your household's particular indoor comfort needs?
Every household will have different heating and cooling needs. Our HVAC experts will discuss the benefits and advantages in detail, as well as things to look out for as a heat pump owner. If you decide to move forward with the installation, we can help you select from a variety of energy-efficient models from Amana.
Contact Us Today For Heat Pump Services In Austin, Hutto, Round Rock, TX, And Surrounding Areas