AC Repair Pflugerville, TX
The Best AC Repair and Replacement Pflugerville TX
Looking for a reliable AC repair or replacement in Pflugerville? Call (512) 677-4424 to schedule immediate appointment with our air conditioning service experts. Free estimates available on new system replacements!
You are looking for an effective way to improve your indoor air quality. Most importantly, we have all of your HVAC needs covered. Grande Air Solutions AC repair Pflugerville committed to helping you achieve total indoor comfort.
Emergency AC Repair And Replacement Pflugerville TX
HVAC problems can develop at any time, and often when it's most inconvenient for you. We know how frustrating it is to deal with a broken AC or furnace during summer and winter. Therefore, we have experts on-call around the clock to handle your most urgent issues. Contact us for emergency HVAC services in Pflugerville and surrounding areas.
Top-Rated Air Conditioning Service Contractors In Pflugerville
Here in the Greater Austin area we can't live without our AC during the summer. As a result, when something goes wrong, you need immediate help. Our team provides same-day AC repair services for residential and commercial customers. In addition, we will troubleshoot any air conditioning service issue and present you with the best solutions.
For instance, if your AC is making strange sounds or odd smell! It is time to Contact us right away.
Our experts can help with:
Frozen evaporator coils
Clogged condensate drains
Broken or worn-out components
Faulty thermostats
Low refrigerant levels
Leaking refrigerant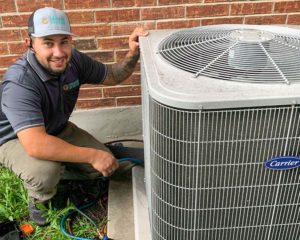 Installing The New AC Replacement
We know that making the decision to replace your AC isn't always easy. Therefore, you want to make sure the contractor you hire is experienced, professional, and knowledgeable. Poor installation is the main cause of most air conditioning problems.
The experts at Grande Air Solutions will make sure your new AC unit is installed safely and accurately. We perform Manual J load to determine the right AC size for you. Because, an undersized or oversized unit will lead to inefficient cooling and further problems down the road.
Please call Grande Air Solutions for a free estimate and consultation. In addition to that, We provide Amana products, and can install and repair all major brands.
Contact Our AC Repair Pflugerville TX Today!
Grande Air Solutions is passionate about customer service. Moreover, we love helping our neighbors throughout Pflugerville find creative ways to solve their heating and cooling problems. In other words, If there is a cost-effective approach our AC repair team will let you know.
Our goal is to eliminate the source of the problem so you can stop worrying about your HVAC system and start enjoying long-term indoor comfort!
We are a full-service HVAC company providing a range of solutions. Give us a call to discuss your particular needs! Other services we provide include:
Call Grande Air Solutions today at (512) 677-4424 to schedule immediate heating, air conditioning, or air quality services in Pflugerville, TX.