Air Conditioning Repair Round Rock, TX
Looking for a reliable air conditioning repair service in Round Rock TX? Or need installation? Call (512) 677-4424 for the best AC services in Round Rock, TX. Free estimates on new system replacements!
Finding a Round Rock TX air conditioning repair service you can trust shouldn't have to be a process of trial and error. When you work with Grande Air Solutions, enjoy friendly service, customized solutions, and honest recommendations. We always have your best interest in mind. 
Whether you need an estimate for system replacement, air conditioning installation, or you're looking for a contractor who can get to your home for same-day service, we have all of your HVAC needs covered.
Emergency AC Repair Services in Your Area
Sometimes HVAC problems just can't wait until regular business hours. A broken AC in the middle of summer isn't just an inconvenience—it can become dangerous for those who are more vulnerable to extreme heat, including small children and the elderly.
If you have a heating or cooling emergency, don't hesitate to contact our team for help. We are available for same-day repairs and emergency service to handle your most urgent problems.
Quality Air Conditioning Repair And Installation In Round Rock
There is nothing more inconvenient than a broken AC during the hottest time of the year. Here in Round Rock we can't afford to be without air conditioning for too long. If your AC is showing signs of inefficiency, contact us to have the problem inspected. We will identify the source of the issue and recommend the best Ac repair solutions.
Common AC problems that require Air Conditioning Repair:
Low Refrigerant Levels
Faulty Thermostats
Broken Components
Frozen Evaporator Coils
Clogged Condensate Drains
Air Conditioning Installation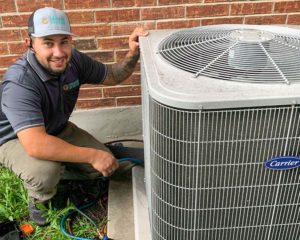 Signs It's Time to Replace Your AC
Is your AC over 15-20 years old? Are you constantly having to call for repairs? If your AC is experiencing problems on a regular basis, replacement may be the most cost-effective solution. Frequent repairs can start to add up; a new air conditioner, on the other hand, will help you avoid costly repairs and lower your energy bill as well.
Grande Air Solutions is an authorized Amana dealer. We will guide you through your options and recommend the best system for your home.
We understand that it can be a tough decision to replace your AC. Our team is here to help you every step of the way, from properly sizing your AC to providing financing options that fit your budget. We will make sure you receive top-notch service, professional air conditioning installation, and support from start to finish.
Call Our Round Rock TX Air Conditioning Service Today!
Our experts at Grande Air Solutions are committed to ensuring your comfort and peace of mind. We don't consider the job done until you are 100% happy with the results. Our team will follow up with you after the AC repair service to check how things are going. If you have any concerns or issues, we will return to your property and make things right.
Call Grande Air Solutions today at (512) 677-4424 to schedule immediate heating, air conditioning, or air quality services in Round Rock, TX.