Georgetown, TX Air Conditioning and Heating Services
Top-Rated HVAC Heating & AC Repair in Georgetown, TX
Looking for reliable HVAC companies in Georgetown? Call (512) 677-4424 for the best heating and HVAC & AC repair in Georgetown, TX.
Struggling with a broken AC, furnace, or heat pump is the last thing you need in your busy schedule. But when unexpected problems occur, Grande Air Solutions is here for you around the clock. We one of the Georgetown HVAC companies that offer a full-HVAC repair and Ac service in Georgetown, TX providing high-quality heating and cooling solutions for residential and commercial customers. We always have excellent customer reviews for ac repair in Georgetown TX, and will do our best to keep being one of the most reliable HVAC companies in Georgetown.
Emergency HVAC Repair Georgetown TX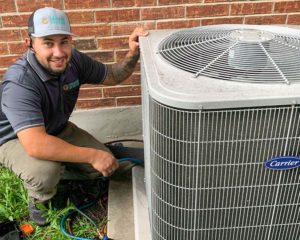 Problems with your heating and cooling units can happen when you least expect them. This is why we have experts on-call to handle any HVAC emergency. Whether your AC is broken in the middle of summer, or you have a furnace that needs immediate repair, contact us for same-day service and solutions. We'll get your HVAC system back to normal as quickly as possible.
AC Repair and Replacement in Georgetown, TX
Are you getting inconsistent indoor temperatures? Not getting enough cool air? Contact our AC repair experts for immediate service in Georgetown. We will inspect your unit and get to the bottom of your cooling problem.
Common air conditioning problems include:
Once we have identified the source of your cooling issue, we will discuss your options for repair or replacement. We always try to perform repairs whenever possible to give you the most cost-effective service. Our experts work on all major AC brands, including Amana.
The typical air conditioner produced these days is designed to work efficiently for 10–15 years. If your air conditioner is decades old and starting to show signs of inefficiency, it may be time to consider replacement. A new AC will help you avoid frequent repairs (which can start to add up) and lower your electricity bill.
Our Georgetown AC installation experts can help you select a high-quality system from Amana. We will make sure your AC is the right size and has the energy-efficient features you want. Get your new air conditioner installed by Grande Air Solutions and enjoy worry-free cooling for years to come!
Contact Our Georgetown, TX HVAC Companies Today!
Grande Air Solutions is committed to ensuring your comfort and peace of mind. Every job is completed to meet the highest standards in quality and safety. We take the time to listen to your needs and concerns, and will do our best to make sure you enjoy hassle-free heating and cooling long after our job is done.
Our experts will follow up with you after the service to make sure there aren't any additional problems. If you have any concerns, we will return to your property and resolve the issue.
Whether you need to fix your AC or insulate leaking ductwork, we have all of your heating and cooling needs covered.
Call Grande Air Solutions today at (512) 677-4424 to schedule immediate heating, air conditioning, or air quality services in Georgetown, TX